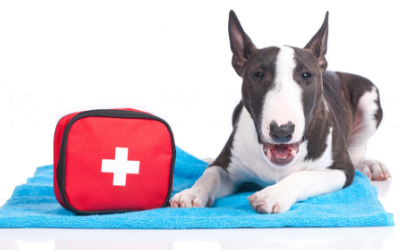 Basic first aid is something we should all have basic knowledge of—whether it be for the furry members of our family or the two-legged people we share our homes with!
April is Pet First Aid Awareness Month. While we're all practicing physical distancing and self-isolation, now is a great time to be sure you know what to do to help your pet in case you find yourself in an emergency and that you have all the supplies that you need.
If you have some extra time right now, consider preparing a pet first aid kit with items that would be useful in an emergency.
Creating a pet first aid kit is a fairly simple task—you probably have most of the items in your home already and you can quickly create a kit that will be useful if you ever need it—hopefully you never will!
A small plastic tub or bin, fisherman's tackle box, or small toolbox can be used to create your pet first aid kit and will allow you to organize and keep all the supplies you need in one location.
Items to pack in your kit:
Disposable gloves (while these may be hard to come by right now, make a note to get some in the future if you have none right now. Rubber dishwashing gloves work as well.)
Hydrogen peroxide 3% (replace every six months or once opened)
Sterile saline solution (can be used for an eyewash or wound flush. Replace every 6 months or once opened)
Rectal thermometer (normal cat rectal temperature is 100.5-102.5°F/38.1–39.2°C and normal dog rectal temperature is 100.2-103.8°F/37.9–39.9°C)
Rubbing alcohol
Cotton balls or swabs
Gauze pads
Gauze rolls
Scissors (blunt end are preferred)
Stretchy bandages
Over the counter antibiotic ointment or cream
Liquid dishwashing detergent (to wash any substances off your dog)
Tweezers (can be used to remove a sliver or insect stinger)
Small towel
Corn syrup or Karo syrup (used in diabetic emergencies)
Your veterinarian's phone number and the number for your local emergency hospital
Now that you have a kit prepared, remember to contact your veterinary healthcare team before administering anything to your pet. They will be able to guide you on the best steps to take immediately and while en route to the veterinary hospital.
While COVID-19 may hinder your ability to take an in-person pet first aid course right now, many online courses are available. An online course may help pass some time and you'll learn how to prevent injuries as well as administer first aid while waiting for veterinary care.